Monkey Tycoon Codes August 2023
If you play Monkey Tycoon and want to get some free in-game items, you're in luck! There are special codes available that can give you awesome boosters and cool attributes within the game. To redeem these promo coupons and enjoy the benefits, just follow the guide below.
About the Game
Monkey Tycoon is one of the popular games on the Roblox gaming platform. In this game, your goal is to collect as many bananas as you can. You'll find a big tower with various groups of monkeys, and like other idle tycoon games, you'll build your monkey empire with different monkey species. You can merge monkeys to create new ones and also collect bananas and coins, which are crucial for progress. By using the codes, you can unlock upgrades and rare-tier monkeys that will earn you more bananas in the long run.
Working Monkey Tycoon Codes
If you don't want to spend real money on in-game currency, check out the following valid code list. These codes will give you extra rewards and high-tier monkeys.
/codelist – Get two sacrifices (new!)

Orangutan – Get free rewards

Primate – Get free rewards

Arboreal – Get free rewards

Baboon – Get free rewards

Gorilla – Get free rewards

Simian – Get free rewards

bugfixing – Get five sacrifices

Thanks – Get one million monkeys

Nevergonnagiveyouup – Get one million monkeys

Nevergonnaletyoudown – Get one million monkeys

Nevergonnarunaroundanddesertyou – Get one million monkeys

Nevergonnamakeyoucry – Get one million monkeys

Nevergonnasaygoodbye – Get one million monkeys

Nevergonnatellalieandhurtyou – Get one million monkeys

Ape – Get one million monkeys

Bakery – Get one million monkeys

Tarantula – Get one million monkeys

monkey backwards – Get 350k monkeys

RADIATION – Get over 177k monkeys

LotsOfMonkeys – Get a bunch of monkeys
If you want to stay updated with the latest news and promo codes, bookmark this page for future reference. Also, if you're interested in other Tycoon games, you can check out the Earthescape Tycoon codes.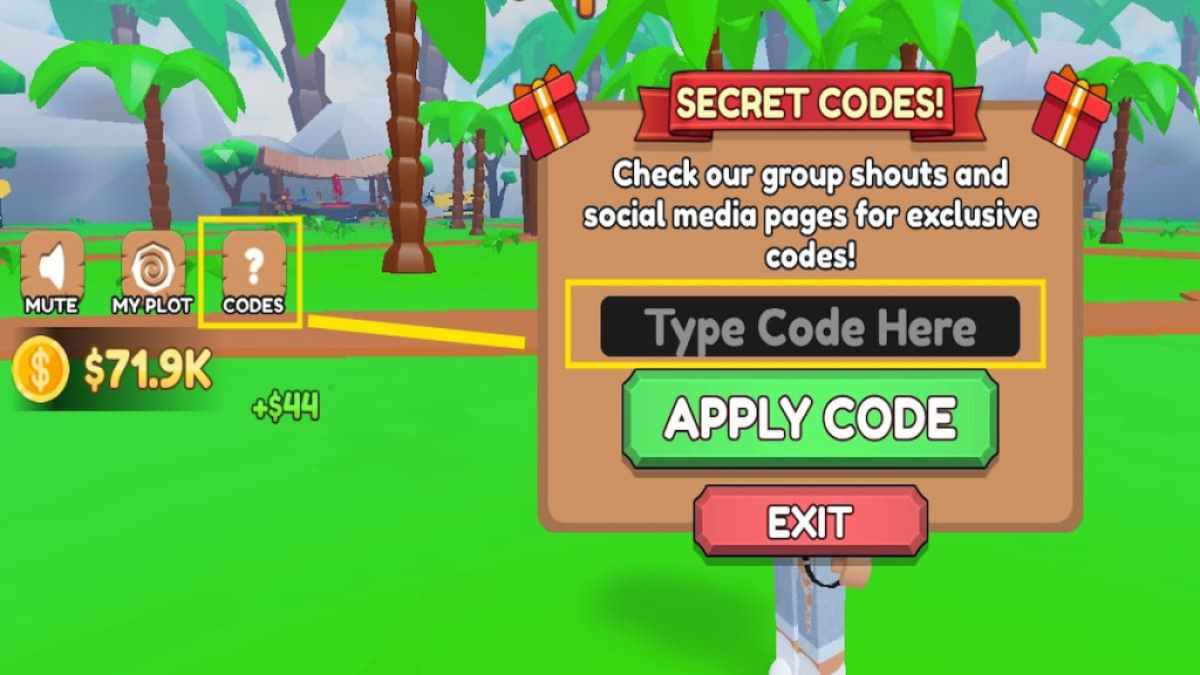 Expired Code List
Don't waste your time with expired codes. Make sure to use only the valid codes listed above.
How to Redeem Monkey Tycoon Codes?
To redeem the promo codes and get your rewards, follow these steps carefully:
Launch the Roblox game on your device and go to the code menu.

Click on the question mark icon on the left-hand side.

Enter the working code in the empty text box.

Press the "Apply code" button to claim your rewards.
Note: You can also join Roblox code groups like Babble Games, Team Blue Monkey, and Secret Monkey Squad to easily find the latest codes.
Final Thoughts:
By using the provided information, you can easily redeem the amazing Monkey Tycoon codes and enhance your gameplay experience. Utilize high-tier monkeys to level up faster and enjoy the game to the fullest. If you have any questions, feel free to ask us in the comments below. Happy gaming!
Read More: Ever Legion Gift Codes August 2023
Author Profile