Discover the Amazing Health Benefits of Parsley & Effective Usage Tips
Parsley, often considered just a decorative garnish, possesses a wide range of health benefits that go far beyond its visual appeal. Across many cultures and cuisines, parsley has been cherished for its remarkable properties. Are you ready to explore the fascinating world of parsley's health benefits?
The Hidden Marvels of Parsley
Parsley is not merely a decorative herb on your plate; it is a nutritional powerhouse bursting with a variety of health benefits. This unassuming green herb is packed with an impressive blend of vitamins, minerals, and antioxidants that can work wonders for your body.
When it comes to nutrients, parsley is abundant. It is an excellent source of vitamin K, which plays a crucial role in maintaining bone health and aiding in blood clotting. Additionally, parsley is rich in vitamin C, an antioxidant that supports the immune system and promotes youthful skin. With its content of vitamin A, folate, and iron, parsley offers a nutritional boost that contributes to overall well-being.
In addition to its nutritional value, parsley exhibits potential medicinal properties that make it even more extraordinary. Research suggests that parsley's health benefits extend to anti-inflammatory and antioxidant effects, which can help combat chronic diseases and promote optimal health. While further studies are needed, initial findings highlight parsley's promising potential as a natural remedy.
Striking the Right Balance: How Much Parsley Is Too Much?
While parsley offers a plethora of health benefits, it is important to maintain a balanced approach and avoid excessive consumption. Like any herb or food, moderation is key.
Although rare, consuming excessive amounts of parsley, particularly in supplement form, can potentially lead to adverse effects. It is always wise to consult with a healthcare professional to determine the appropriate dosage that aligns with your unique needs.
Harnessing the Medicinal Powers of Parsley
Did you know that parsley has been used as a medicinal herb for centuries? Its potential medicinal benefits include:
Anti-inflammatory Properties: Parsley may help alleviate symptoms of inflammatory conditions, thanks to its anti-inflammatory properties.
Diuretic Effects: Parsley can support kidney health and aid in detoxification due to its diuretic effects.
Antioxidant Compounds: Parsley's antioxidant compounds combat oxidative stress and protect against cellular damage.
Digestive Benefits: Parsley's natural enzymes can help relieve bloating and indigestion, making it beneficial for digestive health.
Incorporating Parsley into Your Daily Life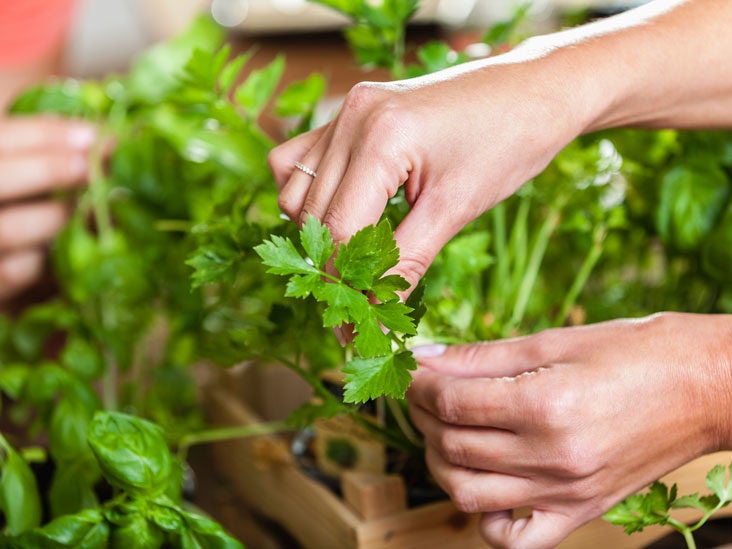 Now that you are aware of the incredible health benefits of parsley, let's explore practical ways to incorporate it into your everyday routine:
Food: Utilize parsley as a versatile ingredient in your recipes, such as salads, soups, and marinades. Its fresh and vibrant flavor complements a wide range of dishes.
Parsley Tea: Brew a soothing cup of parsley tea by steeping fresh parsley leaves in hot water for a few minutes. This refreshing beverage promotes health and can be enjoyed throughout the day.
Garnish with Goodness: Sprinkle chopped parsley over your meals as a beautiful and nutritious garnish. It not only enhances the visual appeal but also adds a burst of flavor and health benefits.
Supercharge Your Smoothies: Blend fresh parsley leaves into your favorite smoothie recipes for an additional nutrient boost. It pairs well with fruits like apples, pineapples, and berries, adding a hint of freshness.
While parsley is generally safe for consumption, it is always essential to listen to your body and consult a healthcare professional if you have any concerns or specific health conditions. Remember, balance and moderation are key when incorporating any herb or food into your daily routine.
Read More: Tier list for Azur Lane (May 2023)
Author Profile